Toyota RAV4 Owners Manual: Using the cd player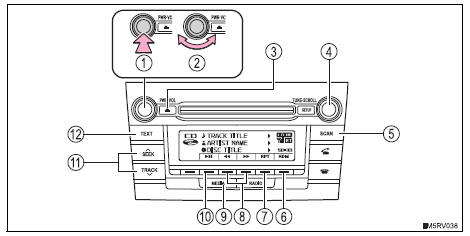 Power
Volume
Cd eject
Selecting a track or displaying track list
Searching playback
Random play or back button
Repeat play
Fast-forwarding or rewinding
Changing the audio source/ playback
Playback/pause
Selecting a track
Displaying text message
Loading cds
Insert a cd.
Ejecting cds
Press

and remove the cd.
Selecting a track
Turn the

knob or press


to move up or


to
move down using the

button until the
desired track number is displayed.
Selecting a track from a track list
Press the "tune•scroll" knob.

The track list will be displayed.

Turn and press the knob to select a track.

To return to the previous display, press (back).



Scanning tracks
Press the "scan" button.

The first 10 seconds of each track will be played.

To cancel, press the button again.

Press the button again when the desired track is reached.
Fast-forwarding and rewinding tracks
Press

Random play
Press

(rdm).
To cancel, press


(rdm) again.
Repeat play
Press

(rpt).
To cancel, press

(rpt) again.
Playing and pausing tracks
Press

Switching the display
Press the "text" button to display or hide the cd title.
If there are continuing texts,

is displayed.
Press and hold the button to display the remaining texts.
Display
Depending on the contents recorded, the characters may not be displayed properly or may not be displayed at all.
Error messages
"Error": this indicates a problem either in the cd or inside the player.
"Cd check": the cd may be dirty, damaged or inserted upside-down.
"Wait": operation has stopped due to a high temperature inside the player. Wait for a while and then press the "media" button. If the cd still cannot be played back, contact your toyota dealer.
Discs that can be used
Discs with the marks shown below can be used.
Playback may not be possible depending on recording format or disc features, or due to scratches, dirt or deterioration.

Cds with copy-protect
features may not play correctly.
Cd player protection feature
To protect the internal components, playback is automatically stopped when a problem is detected while the cd player is being used.
If a cd is left inside the cd player or in the ejected position for extended periods
The cd may be damaged and may not play properly.
Lens cleaners
Do not use lens cleaners. Doing so may damage the cd player.
Notice
Cds and adapters that cannot be used
Do not use the following types of cds.
Also, do not use 3 in. (8 Cm) cd adapters, dualdiscs or printable discs.
Doing so may damage the player and/or the cd insert/eject function.
Cds that have a diameter that is not 4.7 In. (12 Cm)


Low-quality and deformed cds


Notice
Cds with a transparent or translucent recording area

Cds that have tape, stickers or cd-r labels attached to them, or that have had the label peeled off


Cd player precautions
Failure to follow the precautions below may result in serious damage to the cds or the player itself.
Do not insert anything other than cds into the cd slot.
Do not apply oil to the cd player.
Store cds away from direct sunlight.
Never try to disassemble any part of the cd player.