Toyota RAV4 Service Manual: Installation
Install crankshaft position sensor
Notice:
Make sure that the o-ring is not cracked or jammed when installing it.
Apply a light coat of engine oil to the o-ring of the sensor.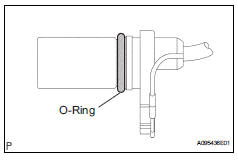 Install the sensor with the bolt.
Torque: 9.0 N*m (90 kgf*cm, 80 in.*Lbf)
Install the wire harness clamp.
Install the connector clamp.
Connect the sensor connector.
Confirm that the wire harness of the sensor is secured to the wire harness clamp bracket through the back of the rib of the timing chain cover.
Install generator assembly
Install the generator to the vehicle (see page ch- 15).
Connect cable to negative battery terminal
Check for engine oil leakage