Toyota RAV4 Owners Manual: Display settings
Settings are available for adjusting the contrast and brightness of the screen.
Screen for display settings
Press the "setup" button.
Select "display" on the "setup" screen.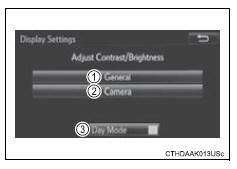 Adjust the screen display
Adjust the camera display*
Changes to day mode.
*: If equipped
Day mode
When the headlights are turned on, the screen dims.
However, the screen can be switched to day mode by selecting "day mode".
The screen will stay in day mode when the headlights are turned on until "day mode" is selected again.
Brightness, contrast, tone and color adjustment
Select "general" or "camera" on the "display settings" screen.
Select the desired item.