Toyota RAV4 Owners Manual: Voice settings
This screen is used for setting the voice command guidance system.
Adjust the voice guidance volume setting.
Set the voice recognition prompts "high", "low" or "off".
Train voice recognition
Set the voice prompt interrupt on/off.
Voice recognition tutorial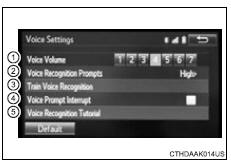 To return to the default settings
Select "default", and then "yes".