Toyota RAV4 Owners Manual: Assist grips
An assist grip installed on the ceiling can be used to support your body while sitting on the seat.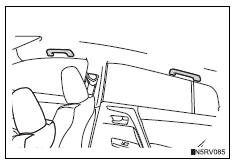 Caution
Assist grip
Do not use the assist grip when getting in or out of the vehicle or rising from your seat.
Doing so could damage the assist grip, or could cause you to injure yourself by falling over.
Notice
To prevent damage to the assist grip
Do not hang any heavy object or put a heavy load on the assist grip.