Toyota RAV4 Service Manual: Air-fuel ratio (a/f) and heated oxygen (ho2) sensor heater monitors (front a/f and rear ho2 sensor type)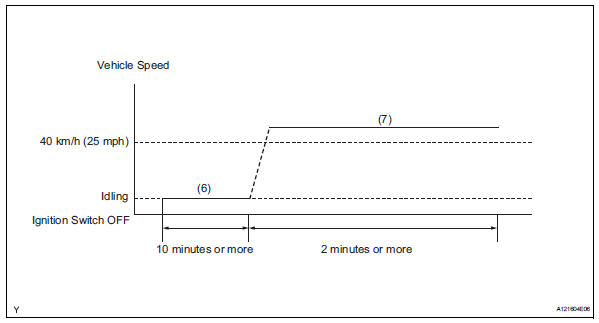 Preconditions
The monitor will not run unless:
Drive pattern
Connect the intelligent tester to the dlc3.
Turn the ignition switch on.
Turn the tester on.
Clear dtcs (if set) (see page es-35).
Start the engine.
Allow the engine to idle for 10 minutes or more.
Drive the vehicle at 40 km/h (25 mph) or more for at least 2 minutes.
Monitor status
Check the readiness monitor status displayed on the tester.
If the status does not switch to compl (complete), make sure that the preconditions have been met, and repeat steps from (5) to (7) described in the drive pattern above.