Toyota RAV4 Owners Manual: Defogging the windshield
Set the air outlet selector dial to
position.
Set the outside/recirculated air mode button to outside air mode if recirculated air mode is used.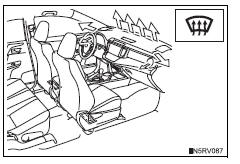 Perform the following operations accordingly:
To adjust the fan speed, turn the fan speed control dial.
To adjust the temperature setting, turn the temperature control dial.
If the dehumidification function is not operating, press to
operate the dehumidification function.
To defog the windshield and the side windows early, turn the air flow and temperature up.