Toyota RAV4 Service Manual: For vehicles equipped with vehicle stability (vsc) system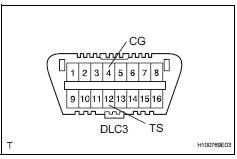 Notices when using drum tester
Before beginning testing, disable the vsc. To disable the vsc, turn the ignition switch off and connect sst to terminals 12 (ts) and 4 (cg) of the dlc3.
Sst 09843-18040
Notice:
Confirm that the vsc warning light blinks.
Vsc system will be reset when the engine is started.
For safety, secure the vehicle with restraint chains while using a wheel dynamometer.
Notices of related operations to vsc
Do not carry out unnecessary installation and removal as it might affect the adjustment of vsc related parts.
Be sure to follow the instructions for work preparation and final confirmation of proper operation of the vsc system.