Toyota RAV4 Service Manual: Installation
Caution:
Be sure to read the precautionary notices concerning the srs airbag system before servicing it (see page rs-1).
Install steering pad assembly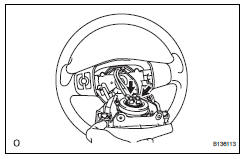 Support the steering pad with one hand as shown in the illustration.
Connect the 2 airbag connectors.
Notice:
When handling the airbag connector, do not damage the airbag wire harness.
Connect the horn connector.
Install the steering pad after confirming that the circumference grooves of the screws are caught on the screw case.
Using a t30 "torx" driver, install the 2 screws.

Torque: 8.8 N*m (90 kgf*cm, 78 in.*Lbf)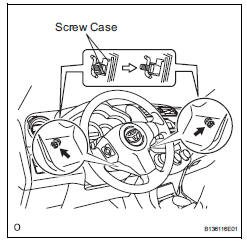 Connect cable to negative battery terminal
Inspect steering pad assembly
Check for cuts, cracks or discoloration on the steering pad outer surface and in the grooved portion.
Check that the horn sounds.
Check srs warning light
Check the srs warning light (see page rs-34).