Toyota RAV4 Service Manual: Removal
Caution:
Be sure to read the precautionary notices concerning the srs airbag system before servicing it (see page rs-1).
Disconnect cable from negative battery terminal
Caution:
Wait at least 90 seconds after disconnecting the cable from the negative (-) battery terminal to prevent airbag and seat belt pretensioner activation.
Remove steering pad assembly
Straighten the front wheels.
Using a t30 "torx" driver, loosen the 2 screws until the groove along each screw circumference catches on the screw case.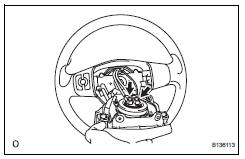 Pull out the steering pad from the steering wheel and support the steering pad with one hand as shown in the illustration.
Notice:
When removing the steering pad, do not pull the airbag wire harness.
Using a screwdriver, disconnect the 2 airbag connectors.
Caution:
When handling the airbag connector, do not damage the airbag wire harness.
Disconnect the horn connector and remove the steering pad.