Toyota RAV4 Service Manual: Removal
Hint:
Use the same procedures for the rh side and lh side.
The procedures listed below are for the lh side.
Caution:
Be sure to read the precautionary notices concerning the srs airbag system before servicing it (see page rs-1).
Disconnect cable from negative battery terminal
Caution:
Wait at least 90 seconds after disconnecting the cable from the negative (-) battery terminal to prevent airbag and seat belt pretensioner activation.
Remove roof headlining assembly (see page ir-37)
Remove curtain shield airbag assembly lh

Disconnect the connector.
Notice:
When handling the airbag connector, take care not to damage the airbag wire harness.
Remove the 10 bolts and curtain shield airbag.
Remove roof side rail bracket lh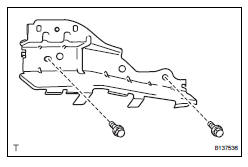 Remove the 2 bolts and bracket.