Toyota RAV4 Service Manual: Removal
Hint:
When removing the spoiler, heat the vehicle body and spoiler using a heat light.
Standard heating temperature

Notice:
Do not heat the vehicle body and spoiler excessively.
Disconnect cable from negative battery terminal
Caution:
Wait at least 90 seconds after disconnecting the cable from the negative (-) battery terminal to prevent airbag and seat belt pretensioner activation.
Remove back door center garnish (see page ed-59)
Remove rear spoiler
Remove the 3 bolts.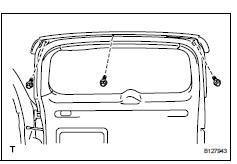 Remove the 3 clips and spoiler.
Disconnect the center stop light connector and remove the rear spoiler.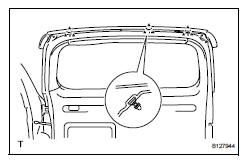 Remove center stop light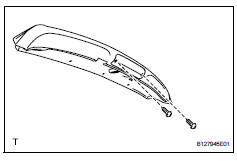 Remove the 2 screws and center stop light.