Toyota RAV4 Service Manual: Tire and wheel system
Inspection
Inspect tire
Check the tires for wear and proper inflation pressure.
Standard cold tire inflation pressure: 220 kpa (2.2 Kgf/cm2, 32 psi)
Using a dial indicator, check the runout of the tires.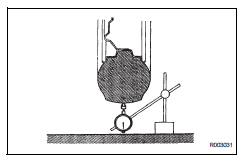 Standard tire runout: 1.0 Mm (0.039 In.) Or less
Rotate tire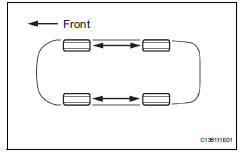 Hint:
See the illustration for tire rotation.
Inspect wheel balance
Check and adjust the off-the-car balance.
Standard imbalance after adjustment: 8.0 G (0.018 Lb) or less
Check front axle hub bearing (see page ah- 6)
Check bearing backlash and axle hub deviation (see page ah-16)