Toyota RAV4 Service Manual: Differential oil
On-vehicle inspection
Check differential oil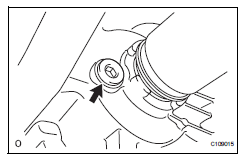 Stop the vehicle on a level surface.
Using a 10 mm socket hexagon wrench, remove the rear differential filler plug and gasket.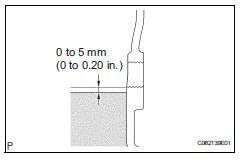 Check that the oil level is between 0 to 5 mm (0 to 0.20 In.) From the bottom lip of the differential filler plug hole.
Notice:
After changing the oil seal, drive the vehicle and then check the oil level again.
Too much or too little oil will lead to differential problems.
Hint:
If necessary, fill the differential carrier assembly with hypoid gear oil.
Recommended viscosity: sae 90
Standard oil grade: hypoid gear oil sx api gl-5
Standard differential oil capacity: 0.45 To 0.55 Liters (0.48 To 0.58 Us qts., 0.40 To 0.48 Imp. Qts.)
Using a 10 mm socket hexagon wrench, install a new gasket and the rear differential filler plug.

Torque: 39 n*m (398 kgf*cm, 29 ft.*Lbf)