Toyota RAV4 Service Manual: Handling of hose clamps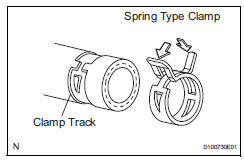 Before removing the hose, check the clamp position so that it can be reinstalled in the same position.
Replace any deformed or dented clamps with new ones.
When reusing a hose, attach the clamp on the clamp track portion of the hose.
For a spring type clamp, you may want to spread the tabs slightly after installation by pushing in the direction of the arrows as shown in the illustration.