Toyota RAV4 Service Manual: Inspection
Inspect rear stabilizer link assembly lh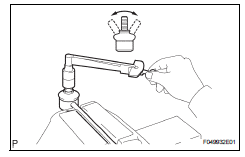 As shown in the illustration, move the ball joint stud back and forth 5 times before installing the nut.
Using a torque wrench, turn the nut continuously at a rate of 3 to 5 seconds per turn and take the torque reading on the fifth turn.
Turning torque: 0.05 To 1.96 N*m, (0.5 To 20 kgf*cm, 0.4 To 17 in.*Lbf) or less
Check for any cracks and grease leaks on the ball joint dust cover.