Toyota RAV4 Service Manual: Removal
Hint:
Use the same procedures for the rh side and lh side.
The procedures listed below are for the rh side.
Remove no. 2 Seat hinge cover lh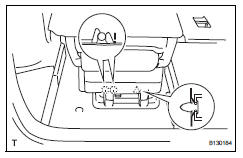 Fully tilt the seatback forward.
Attach the 2 claws and clip.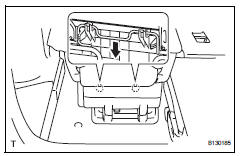 Pull the hinge cover in the direction indicated by the arrow in the illustration to detach the 2 claws. Then, remove the hinge cover.
Remove no. 2 Seat leg cover lh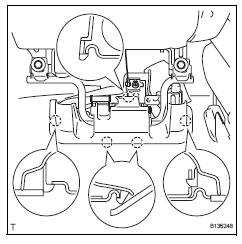 Using a screwdriver, detach the 5 claws and remove the leg cover.
Hint:
Tape the screwdriver tip before use.
Remove rear no. 2 Seat assembly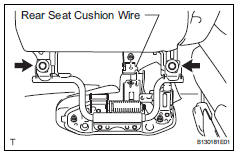 Remove the nut and rear seat cushion wire.
Remove the 2 bolts. Then disconnect the seat from the rear no. 2 Seat link.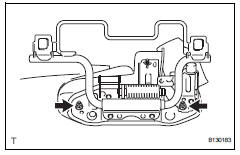 Remove the 2 nuts and the rear no. 2 Seat link.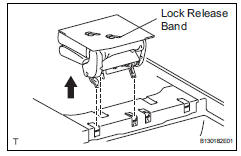 Pull the lock release band backward and release the 3 seat cushion locks from the lock strikers.
Lift up and remove the seat.
Notice:
Be careful not to damage the vehicle body,
Remove rear no. 1 Floor mat support side plate
Remove no. 2 Seat leg box protector.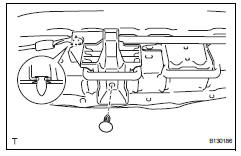 Using a clip remover, remove the clip.
Detach the clip. Then remove the protector.