Toyota RAV4 Service Manual: Removal
Disconnect cable from negative battery terminal
Caution:
Wait at least 90 seconds after disconnecting the cable from the negative (-) battery terminal to prevent airbag and seat belt pretensioner activation.
Disconnect cable from positive battery terminal
Remove battery clamp
Remove the bolt and loosen the nut.
Detach the 2 wire harness clamps.
Detach the hook of the battery clamp from the battery bracket front, and then remove the battery clamp.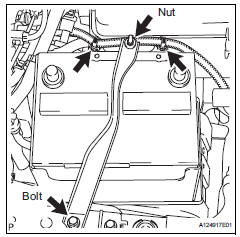 Remove battery insulator
Remove battery
Remove front battery bracket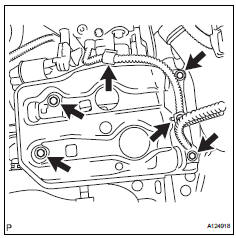 Detach the 2 wire harness clamps.
Remove the 4 bolts and bracket front.
Remove battery bracket reinforcement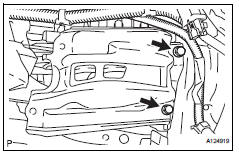 Remove the 2 bolts and reinforcement bracket.
Remove starter assembly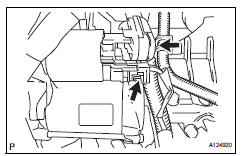 Disconnect the starter connector.
Open the terminal cap, remove the nut and disconnect the starter wire.
Remove the 2 bolts and starter.