Toyota RAV4 Service Manual: Air mix damper control servo motor circuit (passenger side)

Description
The air mix damper servo sends pulse signals to indicate the damper position to the air conditioning amplifier. The air conditioning amplifier activates the motor (normal or reverse) based on these signals to move the air mix damper (passenger seat) to the appropriate position. This adjusts the amount of air passing through the heater core after passing the evaporator and controls the temperature of the blown air
Hint:
Confirm that there are no mechanical problems because this dtc can be output when either a damper link or damper is mechanically locked.

Wiring diagram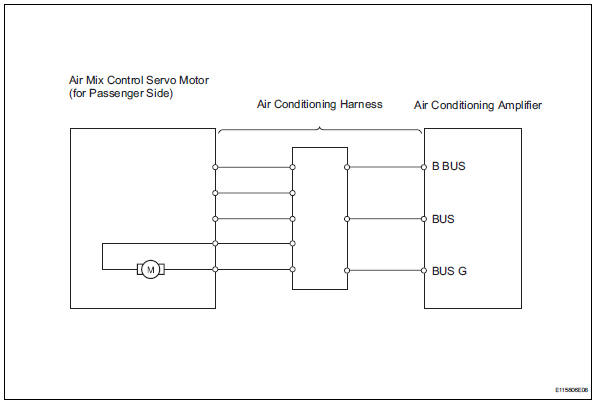 Inspection procedure
Read value of intelligent tester (air mix pulse-p)
Connect the intelligent tester (with can vim) to the dlc3.
Turn the ignition switch on and turn the intelligent tester main switch on.
Select the items below in the data list, and read the value displayed on the intelligent tester.

Ok: the display is as specified in the normal condition column.



Replace air mix control servo motor
Hint:
Since the servo motor cannot be tested when it is removed from the vehicle, replace the servo motor with a normal one and check that the condition returns to normal.
Ok: same problem does not occur.


System is ok