Toyota RAV4 Service Manual: Footwell light circuit
Description
The main body ecu receives information regarding the door lock position switch and ignition switch, and turns on each foot light.
Wiring diagram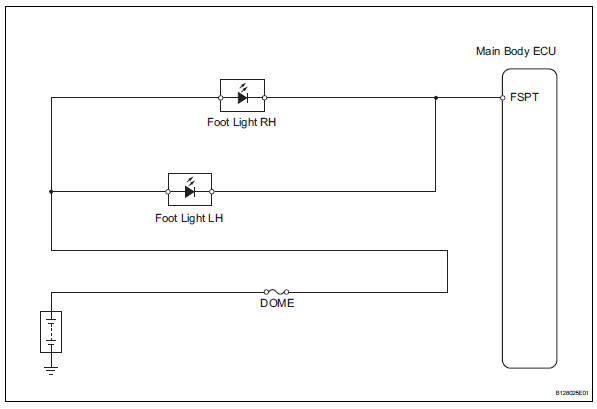 Inspection procedure
Perform active test by intelligent tester (main body ecu)
Connect the intelligent tester (with can vim) to the dlc3.
Turn the ignition switch to the on position and press the intelligent tester main switch on
Select the items below in the active test and then check the relay operation.

Ok: light comes on.


Inspect fuse (dome)
Remove the dome fuse from the engine room no. 2 Relay block.
Measure the resistance of the fuse.
Standard resistance: below 1



Inspect foot light
Remove the foot light.
Connect the positive (+) lead from the battery to terminal 2 and the negative (-) lead to terminal 1, then check that the light comes on.
Ok: light comes on.


Check wire harness (battery - main body ecu)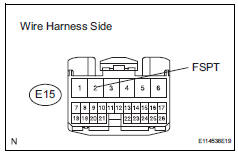 Install the foot light.
Disconnect the e15 main body ecu connector.
Measure the voltage of the wire harness side connector.
Standard voltage



Replace instrument panel junction block (main body ecu)