Toyota RAV4 Service Manual: Installation
Caution:
Be sure to read the precautionary notices concerning the srs airbag system before servicing it (see page rs-1).
Install front passenger airbag assembly
Attach the rear side hook of the front passenger airbag to the rear side airbag door.
Bend the front side hook so that it attaches to the front side airbag door.
Install the instrument panel upper (see page ip-9).
Install the 2 bolts to the reinforcement.

Torque: 20 n*m (203 kgf*cm, 14 ft.*Lbf)

Connect the connector to the airbag.
Notice:
When handling the airbag connector, do not damage the airbag wire harness.
Attach the wire harness clamp to the bracket.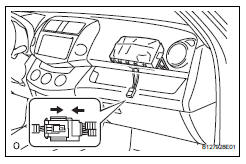 Install glove compartment door assembly (see page ip-9)
Connect cable to negative battery terminal
Check srs warning light
Check the srs warning light (see page rs-34).