Toyota RAV4 Service Manual: Removal
Caution:
Be sure to read the precautionary notices concerning the srs airbag system before servicing it (see page rs-1).
Disconnect cable from negative battery terminal
Caution:
Wait at least 90 seconds after disconnecting the cable from the negative (-) battery terminal to prevent airbag and seat belt pretensioner activation.
Remove glove compartment door assembly (see page ip-20)
Remove front passenger airbag assembly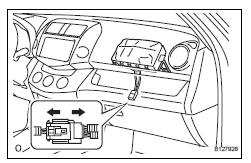 Detach the wire harness clamp from bracket.
Disconnect the connector from the airbag.
Notice:
When handling the airbag connector, do not damage the airbag wire harness.
Remove the 2 bolts from the reinforcement.
Remove the instrument panel upper (see page ip- 6).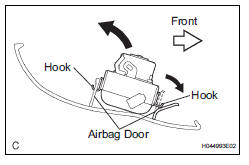 Release the front side airbag door from the front side hook by slightly bending it and lift out the front passenger airbag rearward.
Release the rear side airbag door from the other hook and remove the front passenger airbag.