Toyota RAV4 Service Manual: Problem symptoms table
Hint:
Use the table below to help determine the cause of the problem symptom. The potential causes of the symptoms are listed in order of probability in the "suspected area" column of the table. Check each symptom by checking the suspected areas in the order they are listed. Replace parts as necessary.
The matrix chart is divided into 2 chapters. When troubleshooting, check chapter 1 first. If instructions are given in chapter 1 to proceed to 2, proceed as instructed.
If the instruction "proceed to next circuit inspection shown in problem symptoms table" is given in the flowchart for each circuit, proceed to the next suspected area in the table.
If the problem still occurs even though there are no malfunctions in any of the circuits, check the ecm and replace it if necessary.
Chapter 1: electrical circuit matrix chart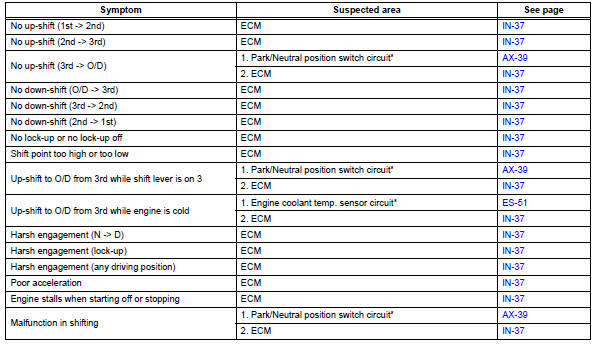 Hint:
*: When the circuit is defective, a dtc may be output.
Chapter 2: on-vehicle repair and off-vehicle repair