Toyota RAV4 Service Manual: Rear axle hub bolt
Components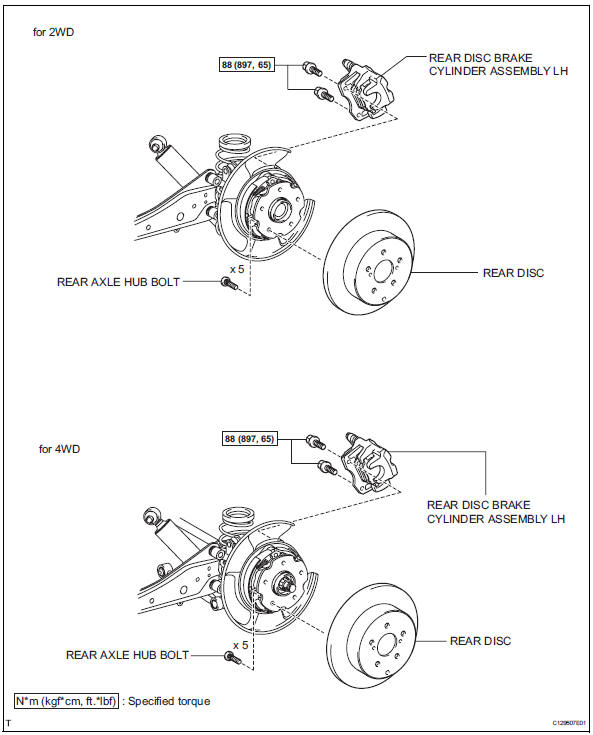 Replacement
Hint:
Use the same procedures for the rh side and lh side.
The procedures listed below are for the lh side.
Remove rear wheel
Remove rear disc brake cylinder assembly lh (see page br-55)
Remove rear disc (see page br-57)
Remove rear axle hub bolt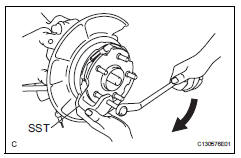 Using sst and a brass bar or equivalent to hold the axle shaft, remove the hub bolt that needs to be replaced.
Sst 09650-17011
Install rear axle hub bolt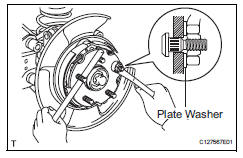 Insert a new hub bolt into the bolt hole. Set a plate washer and nut on the hub bolt end.
Using a brass bar or equivalent to hold the rear axle, install the hub bolt by tightening the nut. Then remove the nut and plate washer
Install rear disc (see page br-58)
Install rear disc brake cylinder assembly lh (see page br-61)
Install rear wheel torque: 103 n*m (1,050 kgf*cm, 76 ft.*Lbf)