Toyota RAV4 Service Manual: Ig power supply voltage malfunction

Description
The power steering ecu distinguishes the ignition switch status as on or off through the ig power source circuit.

Wiring diagram

Inspection procedure
Read value of intelligent tester (ig power supply)
Connect the intelligent tester (with can vim) to the dlc3.
Turn the ignition switch on.
Select the item "ig supply" in the data list and read the value displayed on the intelligent tester.



Inspect fuse (ecu-ig1)
Remove the ecu-ig1 fuse from the instrument panel junction block.
Measure the resistance of the fuse.
Ok: below 1



Check harness and connector (battery - power steering ecu)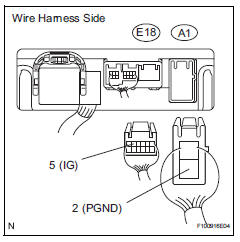 Disconnect the e18 and a1 power steering ecu connectors.
Measure the voltage of the wire harness side connectors.
Standard voltage



Replace power steering ecu