Toyota RAV4 Service Manual: Replacement
Replace timing chain cover oil seal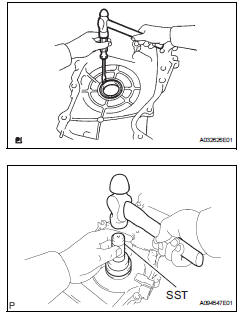 Using a screwdriver and hammer, tap out the oil seal.
Place the oil seal retainer on wooden blocks.
Apply multi-purpose grease to the lip of a new oil seal.
Notice:
Keep the lip free of foreign objects.
Using sst and a hammer, tap in a new oil seal until its surface is flush with the timing gear case edge.
Sst 09223-22010
Notice:
Do not tap the oil seal at an angle.